Violin Making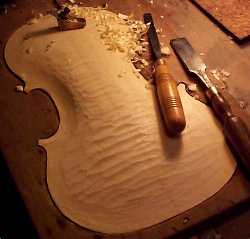 This series of articles shows how a violin is made by hand by a professional violin maker in the traditional way.
Follow Derek Roberts' progress as he works from choosing the wood to the completed violin in the white.
The glossary explains the terms used.

Stages in Violin Making by Hand
Day 1 Select the wood, prepare and joint the plates
Day 2 Glue the blocks to the mould and shape them
Day 3 Prepare the ribs and bend to shape
Day 4 Complete the rib structure
Day 5 Make the linings and fix to the ribs
Day 6 Saw out and rough arch the back plates
Day 7 Saw out and rough arch the front plates, begin final arching
Day 8 Prepare, mark out and saw the neck block
Day 9 Carve the scroll
Day 10 Carve the pegbox and flute the scroll
Day 11 Finish the outline
Day 12 Inlay the purfling
Day 13 Final arching
Day 14 Hollow out the back plate
Day 15 Hollow out the front plate and thickness the front and back
Day 16 Mark out the F holes
Day 17 Cut out the F holes
Day 18 Glue the back to the ribs
Day 19 Fit the bass bar to the front
Day 20 Close the box - remove the mould and glue the front on
Day 21 Shape the fingerboard and glue onto the neck block
Day 22 Set the neck into the body
Day 23 Finish the neck and back button
Day 24 Finish the edge and final scraping
Derek Roberts is a professional violin maker with workshops in Leamington Spa, Warwickshire and Pembrokeshire, West Wales, UK. He is also a qualified teacher and runs short violin making courses at his workshop.
Are you interested in learning to make a violin, or developing your violin making skills? See our Violin Making Courses. Our resources page has recommendations for books and suppliers for violin making.
All material on this site © copyright Derek Roberts, Leamington Spa 1999, 2000, 2001, 2014