Violin Making
Day 7 The front
This is one page in a series about violin making by hand in the traditional way. Please see the introduction for more, and our violin making courses if you are inspired to make a violin yourself.

Today violin maker Derek Roberts saws out the front plates, completes the rough arching and begins the final arching. The front plates are marked, sawn out and trimmed in the same way as the back plates were done in the previous stage.

As for the back, the edge is trimmed down to the marked line with a knife and with a chisel, and then filed to achieve the final outline and shape of the corners.
Below, a large gouge is used to begin the rough arching. The spruce used for the front is softer than the maple used for the back and so is easier to cut.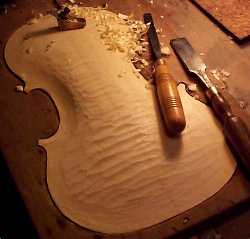 The rough arching is complete. The arching is developed further with smaller gouges and a tiny violin maker's thumbplane.
The thumbplane is made from brass and is held between the thumb and forefingers. The curved cutting edge of the blade and curved base of the plane enable very precise shaping of the arch.

As work progresses with the thumbplane on the arching, templates are used to guide the shaping of the instrument.


The long arch template is used in the middle of the front to establish the contours. There is another long arch template of slightly different shape for the back.

Here is one of the set of five templates for the cross arch, used at different positions across the front. The back has its own set of five cross arch templates.
Derek made these templates out of thin plywood, from drawings of the Stradivarius model for this instrument.
With the outline finalized and the arching roughly worked to the templates, this stage is complete. Later on the purfling will be inlaid and the contours of the arching will be finished with a scraper. Then the insides of the front and back will be hollowed out.
| | |
| --- | --- |
| | Meanwhile, in the next stage, Derek will mark and saw out the front plates, complete the rough arching and begin the final arching. |
Are you interested in learning to make a violin, or developing your violin making skills? See our Violin Making Courses. Our resources page has recommendations for books and suppliers for violin making.
All material on this site copyright Derek Roberts, Leamington Spa 1999, 2000, 2001, 2014